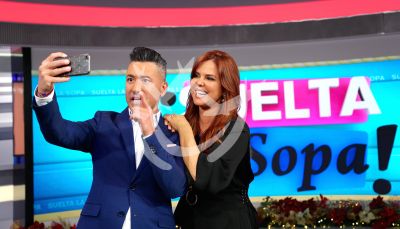 María Celeste y Jorge Bernal ¡seflies!
November 28 2017
María Celeste Arrarás visita a los presentadores Jorge Bernal, Carolina Sandoval "La Venenosa", Boris Izaguirre y Juan Manuel Cortés en el set del programa de chismes y entretenimiento "Suelta la Sopa" (Telemundo), que celebró el inicio de la temporada navideña con el encendido del tradicional árbol de Navidad, con la conductora de "Al Rojo Vivo" como madrina/Miami, 27 de noviembre 2017.


All images are for Editorial Use only and they can not be copy, download or reproduced without permission. The open access to our Photo Library is for entertainment only. If you are interested in our materials for your blog/page/social network, please Contact Us.