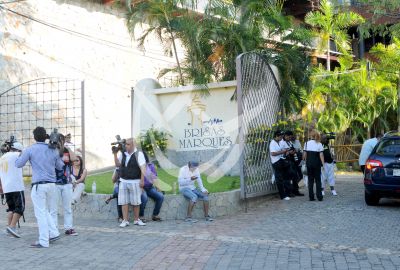 Gali, Gali ¡déjanos pasar!
August 08 2011
Galilea Montijo celebró su boda con el político Fernando Reina Iglesias, después de tan solo cuatro meses de relación, en las Brisas Marquéz de Acapulco. Bajo un estricto régimen de seguridad y hasta con algunos camarógrafos agredidos, la conductora de "Pequeños Gigantes" se negó a salir para la foto del recuerdo a la prensa que la esperaba, pues vendió la exclusiva a una revista. "Sólo es una revista que tiene el evento, porque es la que siempre nos ha respetado! Gracias por entender!"/Acapulco, 6 de agosto 2011.
All images are for Editorial Use only and they can not be copy, download or reproduced without permission. The open access to our Photo Library is for entertainment only. If you are interested in our materials for your blog/page/social network, please Contact Us.