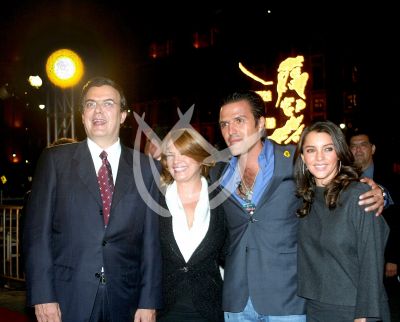 Navidad ¡en el zócalo!
November 14 2008
Marcelo Ebrard, Alcalde del D.F., Mariagna Pratts, Billy Rovzar y su esposa Sara Maldonado asisten al estreno de "Navidad S.A.", quizá la premiere más grande del mundo de una película para niños en el Zócalo de la Ciudad de México, la tercera plaza pública del planeta. Con 20 mil sillas instaladas, los asistentes, entre personalidades y niños del Teletón, disfrutaron de la película protagonizada por Pedro Armendáriz como "Santa Clos" y Adal Ramones como "Marmo", su ayudante en el Polo Norte, que buscarán salvar la Navidad/México, 13 Noviembre 2008.
All images are for Editorial Use only and they can not be copy, download or reproduced without permission. The open access to our Photo Library is for entertainment only. If you are interested in our materials for your blog/page/social network, please Contact Us.