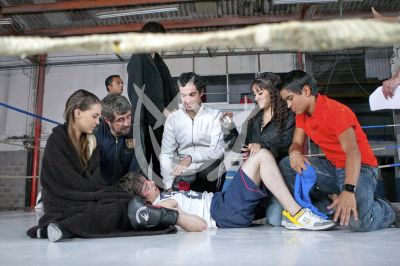 Pee Wee ¡no se rían!
December 08 2009
El personaje de Pee Wee (Ulyses) se enfrenta a una pelea con Ferdinando Valencia (Patricio) en un capítulo de la telenovela "Camaleones", cansado de las humillaciones de éste. Y aunque el cantante y ex Kumbia King parece derrotado frente a sus amigos Belinda, Poncho Herrera y Sherlyn, no se lleva la peor parte en la producción de Rosy Ocampo, en horario estela de Televisa en México/diciembre 2009.
All images are for Editorial Use only and they can not be copy, download or reproduced without permission. The open access to our Photo Library is for entertainment only. If you are interested in our materials for your blog/page/social network, please Contact Us.