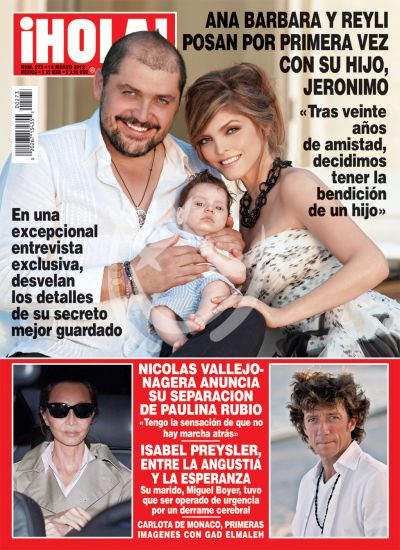 Ana Bárbara y Reyli en Hola!
January 07 2015
Ana Bárbara y Reyli presentan en la portada de la Revista ¡Hola! México su "secreto mejor guardado": su hijo Jerónimo de Jesús. "Tras veinte años de amistad, decidimos tener la bendición de un hijo", declara la pareja a la publicación, luego que desde meses atrás se señalara al cantante y compositor como el padre del hijo de la Reina Grupera. LA IMAGEN ES PARA FINES PROMOCIONALES ÚNICAMENTE Y NO PUEDE SER ALTERADA, EDITADA O MODIFICADA DE FORMA ALGUNA PARA NO INFRINGIR LOS DERECHOS DE COPYRIGHT DE LA REVISTA HOLA. SOLO SUSCRIPTORES/México, 07 de marzo 2012.
All images are for Editorial Use only and they can not be copy, download or reproduced without permission. The open access to our Photo Library is for entertainment only. If you are interested in our materials for your blog/page/social network, please Contact Us.